Otherwise known as
"The Four Best Ways to Increase Engagement on Instagram…"
A few weeks ago, I gave my first (of hopefully many to come) live webinar to an audience of Click Pros, entitled The Four Best Ways to Increase Engagement on Instagram.  (Click Pros are a group of elite photographers who have demonstrated technical and creative excellence. To learn more about the benefits of becoming of Click Pro and the application process, click here.)   It was a topic that I've spoken much about over the past few years, on live streams and in DM threads, but have never really sat down to write it all out, to think it all through.  
Even though I had an outline for the webinar (which can be found in the Click Pro Facebook Group), many times I went on tangents to answer questions or as thoughts popped into my head.  I am the Queen of Tangents. (Which drives my husband nuts.) I often found myself referencing The Great Meg Loeks, mostly because everyone knows who she is, but also because she was such a perfect example in so many of my tips.  
When Meg hit the huge milestone last week of hitting 150,000 followers on Instagram, I wanted to post on @photographerhack to commemorate it, as many of my friends were doing using the hashtag #meghits150.  Because I view @photographerhack as a way to teach, add value, or inform, I thought I'd also take that opportunity to express why and how I thought she had been able to accomplish such a feat. I think I can safely use the word "feat" because I don't know of any other photographer in the genre of family and child photography that has reached that level of following.  
As I tapped out my caption, I realized that the reasons I was about to list were also precisely the Four Best Ways to Increase Engagement.  
She's generous.  She engages. She invests in people and the Instagram Community.  
I hear often times that people feel greedy with their engagement. And to a certain extent, I totally get that. In an Insta-world where the algorithm only works part-time, I know I try to only engage with accounts that I want to see as I scroll my feed.  I avoid engaging with accounts that don't inspire me.   What if Meg took that approach? What if she only engaged in accounts that inspired her?  She'd have a pretty small circle, I'd imagine. (Caroline Jensen would make it into that party, though.)   In my webinar, I talked a lot about "Give to get" or "The Law of Sowing & Reaping" or "The Law of Reciprocity."  All of these are fancy ways to say – you gotta engage to get engagement.
A few years ago, I did an in-person workshop with a famous photographer.  It was a small group of us, so I got to really spend some QT with her. I've also taken several online classes with her.  I started engaging with her on Instagram, but she never commented back. Ever. She didn't follow me (even though she knew and taught me) and never once liked or commented on anything I ever posted.  Not in a vengeful way at all, but eventually, I stopped engaging with her account entirely. And, eventually, I chose to unfollow her. She had no interest in Instagram other than posting her work and then going about her business.  That's totally fine. I don't blame her. But it didn't compel me to keep coming back, even though her work is really great. And again, I really like her as a person! But the engagement was just lacking – a simple reply of "thank you" would have sufficed.  
Now, let's turn 180 degrees and look at Meg Loeks.  She gets hundreds of comments on her images. I have no idea how she replies to so many.  It's like she's Santa delivering all the presents on Christmas Eve or the Lord answering all the prayers.  (I picture that scene from Bruce Almighty where Jim Carrey as God opens his prayer email and he gets like
a million emails per second.  There's no way he can answer them all!)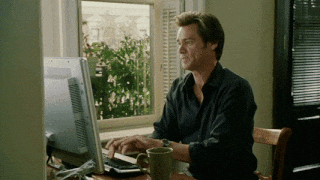 Now, I don't ever expect her to reply to my every comment.  I comment because I genuinely love her work.  Not because I need a thank you. I don't. In fact, I almost feel badly, like "sister, don't worry about saying thank you, go outside and play with your kids (in 5 feet of snow in below freezing temperatures, but go do it anyway because you're Meg Loeks and that's what you do).  But she replies anyway.  And I never expect her to comment or like anything I post, because let's be honest, I don't think my "work" inspires her.  I'm a middle-of-the-road photographer – I have decided to post whatever I want on Instagram and I don't stick to any style or genre.  It's my personal account and I post for me. Nothing jaw-dropping about my pictures.   But she comments anyway.  
(And Meg, if you're reading this, even if you stop replying and commenting, I'll forgive you.  Your hands are full, honey.)   She understands a critical component of Instagram.  It's a community. You get the privilege of engaging with people from all over the world who live all sorts of different lives.  She gets that. The way to build relationships – people who want to follow you, engage with you, and take courses from you and buy your products…is to invest in them.  And it IS an investment. If you're reading this and thinking "I don't have hours a day to spend on Instagram" well, does she?  I don't think so. But she figures out a way to spend a little bit of time here and there to invest in other people.  And they gladly invest back in her.
A quick non-Meg tangent.  It's the power of the notification.  Do you not check your notifications? I certainly do!  I see when people like and comment on my posts. And I'm compelled to tap over and give that love back.  (The Law of Reciprocity – when someone engages with you, you want to engage back with them.)   (And if you're NOT using notifications to prompt your engagement…try it.  It's a great way to engage with people you might not usually engage with while scrolling your feed.  If you see a new name pop up, tap over, give 'em some love. If you see a name that regularly engages with your posts, but you've never engaged with them, tap over.  If you give back some love, they'll want to keep giving it.)
 She writes witty, heartwarming captions that show her followers a little bit of her personality and which add to the visual part of the post, the image.  
"September is pediatric cancer awareness month and we are going gold for big brother, and all the children & families who have been affected. ? When Leo was diagnosed Woody was just two years old. He didn't fully understand what was going on, but he knew his big brother was sick. He was incredibly intuitive and this shocked me for being so young. There were times Leo would come home from the hospital and Woody would lay next to him and hold his hand without saying a word. He has such a tender heart. This is the one trait I'm most proud of with him… his compassion for others." ~Meg Loeks
People, I've said it so many times and I'll say it again: I believe your caption is nearly equally important as your image. If you're not writing captions at all, you are seriously missing out and leaving a lot of engagement on the table. Your caption should give people something to respond to.  Help them. (Help me, help you. (This article is riddled with movie quote references…))
I run what are called Engagement Posts.  They're similar to a pod, if you're familiar with those.  I also participate in them. I know, for me, if I am supposed to engage with an image and the poster gives me no caption, I sometimes struggle with what to comment.  I'm left with "Beautiful shot!" or "Such beautiful light!" or "Adorable picture" and the like. Unless it's a jaw-droppingly awesome image, you make it super tough on your viewers to engage with you.  (I'll say it again, only Candice Gleason can get away with no captions. But her images say it all – no words necessary. Most of us aren't that great, ok people? Tough love.)
When you write a caption, you add a little color commentary to your image.  A little backstory, a little of your personality. This is important.  Now, I am a caption-reader.  Some of you aren't. But google around – you'll find that most Insta-gurus DO encourage you to write compelling captions. You get two parts to an Instagram post – the image and the caption. Don't ignore 50% of your post.  Many people object, saying, "I'm not a good writer, I never know what to say…"  Well…practice. There was also a time when you weren't a very good photographer either, right?     It's always practice.  Even writing. You don't have to be a "writer" to write engaging captions.  But you should write from the heart. And this takes some practice.
Julia Cameron in "The Artist's Way" encourages "Morning Pages" – an exercise where you'll write out three pages about anything or nothing at all every morning.  Not to finish a book or publish anything, but just to get used to the habit of writing and finding your voice.   Steven Pressfield of "The War of Art" stresses the importance of showing up and writing every day.  So does Liz Gilbert. These famous writers don't emphasize the fact that they're naturally gifted or smarter than you… They insist their success manifested out of….practice.  If you practice writing captions, you will get better and better.
Here's a tip:  Your captions don't need to be long.  (Mine are, but that's my preference – again, I post for me, and if I write a long caption, it's because I have words I want to remember and come back to someday.)  They can be short & sweet. More people will read them if they are. But they should reflect your heart, your perspective.  
Here's an example that I'm paraphrasing from Jenna Kutcher.  And this is especially important if you mostly post client work. Client work is tougher for engagement because I don't know these people.  You may take amazing images, but why should I care? I don't know them, and I probably never will.  Yes, they're a gorgeous family, but…why would I be compelled to comment, other than "Can you ask mama where she got her dress?  I love it!"   Let's say you're a wedding photographer and you're about to post an image of a bride about to walk down the aisle.  She's standing with her father, nervous and excited. You nailed this image – emotion & connection, it's a legit great image.  Now you post. I'll give you a couple examples of captions:
Caption 1:  "About to walk down the aisle…"
Caption 2:  "He looked at her, knowing he was about to give away his baby girl."
Caption 3:  "This one just gives me all the feels…  As a wedding photographer, I knew I had to capture this moment perfectly.  I positioned myself to get a little rimlight around the bride and her father, against that darker background.  I bumped my aperture to 3.5, not knowing where they'd stand exactly, but I knew I had to have both of their expressions in focus.  And then I waited and observed. I heard the music playing, the wedding coordinator start buzzing, and then, it happened. This moment right here.  They looked at each other, and with a lifetime of memories between daddy and daughter, nervous and excited and every other emotion, he said, "I love you baby girl," and tears welled up in her eyes.     For more beautiful images from John & Katie's wedding, visit my blog.  Link in profile."
Caption 4:  "I knew I had to capture this moment perfectly – the moment just before she would walk down the aisle, fulfilling every girlhood dream.  And the moment that he would give his baby girl away. I couldn't help but think about my own wedding day. I stood in a tent and waited for the right music to play.  My Dad, usually soft-spoken, was especially quiet. It was just the two of us. My sister had just left us to take her stroll down the aisle as my Maid of Honor, making us laugh with her best Steel Magnolia impression, "It's time!  Daddy! It's time!"   What about you…what do you remember about the moments just before you made your big walk down the aisle?   For more of this lovely wedding, click the link in profile."
Ok, those are 4 very different captions.  And each one might hit you differently. Maybe you like short & sweet.  But do you see how Caption 1 is a bit too Captain Obvious? Should I create a new phrase and call it "Caption Obvious?"  I don't think you need to just restate the obvious with your caption. Maybe think of an interesting word or take on the image that isn't quite so obvious.  Like, "Anticipation" or "The swirl of nervousness and excitement." Don't just use a caption that simply states what the image is, as if you were keywording it for Google.  
I like Caption 2 a bit better.  It draws out a little emotion, doesn't it? Caption 3 is a bit more engaging because if your primary following consists of photographers, they might want a little glimpse of the behind-the-scenes and what you were thinking as you shot this.  The key is this: It's about YOU. Nobody cares about a bride and dad they've never met. Give them a reason to read your caption, tell it from your perspective. People have chosen to follow YOU. Not this bride and her dad.  
I think Caption 4 is probably the best and will get the most engagement.  First, it asks a question. That's always a good idea. You can't do that with every single caption, it'll start feeling cheesy and inauthentic.  (I have to admit, I don't love posts by "marketers" that always says "Double tap if you agree" or "tag a friend who needs to hear this message." You can only get away with that occasionally.  Please don't do that for every caption.   But if you post on a Friday, why not say what your weekend plans are and ask, "what are you up to this weekend?"  If you post a picture of your kids helping you bake cookies in the kitchen, why not say that you found this recipe from Ina Garten and it's sooooo goooooood!  And ask, "what's your favorite cookie?" Or, "do you have any cookie recipes to share?" Or, " what's your favorite thing to cook with your kiddos?"
Back to Meg.  She mostly posts images of her family.  I do think it's easier to write heartfelt captions about people that you love and that show up often in your followers' feeds, rather than client work.  But go ahead, scroll through Meg's gallery and read her captions. She just adds a little backstory, a little color, to an already amazing image. She gives her followers something, in addition to the image, to respond to.  I often find myself responding to her caption, rather than simply her image. She never writes a novel, usually just something short & sweet. But you can clearly get a sense of her personality from her captions, in a way that is different than if you only saw her pictures.  
 She gets in the frame so you can see HER too.  
I mentioned this earlier when discussing captions, but it's so so true here too: People chose to follow YOU.  Show them who you are. They want to see you. You don't have to be super-model gorgeous!  In fact, I'd argue that it works in your favor if you're approachable and normal-looking.  You know what I mean, right? When I see something catch my eye in the Explore page and tap over to a lifestyle blogger's feed. And the majority of the images are of this perfectly made-up & coifed, bikini-ready bod in the most fashionable of OOTD's. Do I follow?  Nah. I don't need to compare myself to that every day. That doesn't add any value to my life. Maybe you'd follow? Maybe you like fashion or need inspiration to go to the gym?
What I love is seeing how my friends put themselves in the frame, either alone, in an everyday but interesting/creative way, or with their kids.  That is what inspires me. And no one does this quite like Meg. She is able to get in the frame with her kids in a way that looks like a work of art.  Her self-portraits are stunning. Now, I've met her in person – she is most definitely beautiful-looking on the outside, not tough to look at. And even her recent pregnancy portraits were holy moly sexy mama!  But she's still real and normal. She isn't botoxed and plasticked and bleached to perfection. She's approachable. It feels like she could be my friend in real life.
Jenna Kutcher did a podcast recently (probably a couple months ago, at the time of this writing) about an experiment she did with her Instagram account.  It was 30 Days of Jenna. Every single day for a month, she only posted images of herself. She admitted it felt awkward, kinda conceited and self-centered even.  But…her Instagram account skyrocketed in followers. It turned out that people really did want to see HER. Anecdotally, I can tell you that my best performing posts on Instagram are my self-portraits.  Not that they're all that awesome. But people apparently love seeing my mug.   And for me, I am far more likely to engage with a post where YOU are in the frame.  Because I'm commenting to YOU – not to your kids. If you post an amazing image of your kids, then I say, "wow, what an amazing picture of your kids!"  If YOU are in the image, I can speak directly to you, and say, "Heyyy! So happy to see you in the frame! I love your hair!!"   It's just far easier to connect with you if I can see your face and know what you look like.  I can't really "connect" with your kids, ya know? And even if…that's just creepy.
 And lastly, her work is just damn good.  It's well-thought-out, it's well shot and executed, it's beautifully edited.  It's just

good.
But she wasn't born an amazing photographer.  If you have a few hours to scroll waaaaayyyyy back, you'll discover her posts from circa 2014 where @meg_nlo was just a garden variety Instagram feed.  You can see where she transitioned from cell phone shots to dslr and some of her early work. And then…it just gets better and better.   What did she do to improve and refine her signature style?  She practiced and kept learning. She found a style she loved and kept practicing and practicing.  
Think about the photographer you were 5 years ago.  If you weren't even shooting that far back, what about one year ago?  Have you grown? Have you evolved and improved? If the answer is no…I would suspect that you need to shoot more often, daily preferably.  Have you taken a workshop from a photographer you admire? If not, what are you waiting for? I've taken a few workshops that have been absolute game-changers for me.  Where I use what I learned with every single shot I take. What I learned in those workshops is not the kinda stuff I would have picked up naturally if I shot daily. It was more technical stuff that I had to be taught.  There's huge value in taking a workshop from an amazing photographer. There are just too many opportunities to learn. I know it's not cheap, but it IS an investment in yourself and honestly, workshops make me happy. I love learning more than anything, it's a gift to myself.  Even start small and try a breakout – they start at only $25! (In fact, if you'd like to learn from Meg herself, she teaches in-person at various retreats and has several online courses, notably "Finding the Classic Beauty in Your Everyday.")
Maybe ask a trusted friend or two what type of workshop you could benefit from.  Do you need help using light? Do your compositions lack interest? Does your editing need refining?  Heck, ask me, I'll shoot ya straight. Not that I have it all figured out myself, I don't. But I am pretty good at looking at someone's work and getting a feel for their areas of opportunity and improvement.  
Here's what I know from my own experience and taking a really hard look at many different Instagram accounts: Your best images get the best engagement.  Your great images get great engagement. Your good images get good engagement. Your just-okay images get just-okay engagement. Weird stuff can happen from time to time, but this is the rule – not the exception.  If you want people to follow you and engage with your work, they will if your work is unmistakably great and inspiring.   Don't let that discourage you if you're not where you want to be yet.  I'm not! So far from it! But I'm ENcouraged by that. I have a lot to learn and so much room to grow.  That motivates me and inspires me to shoot more and learn more. And remember what Grandpa always says, "Rome wasn't built in a day."  Give yourself a little grace and a lot of time. Most people aren't overnight successes, and neither was Meg. I bet she'd say that it took a lot of hard work (and still does).  
So there ya have it.  My Four Best Ways to Increase Your Engagement, otherwise known as How Meg Loeks Hit the BIG 150. Same thing.   
---
I should note that I did not consult Ms. Loeks for this article.  I guess when you're an Insta-celeb, you can expect people to gossip about you!  But these are my own observations of her, as someone I do not know well but have been a fan of for several years.  I should also note that she's always been extremely kind and generous to me.  Any time I've ever DM'd her to ask her anything, she thoughtfully replies and is helpful.  I've heard from many HubHack members that they heard of my service from her.  (In fact, I can't even include in print the words that came out of my mouth when I saw her name sign up to be a member a long time ago – I'll let you use your imagination.)
---